Relax, indulge and feel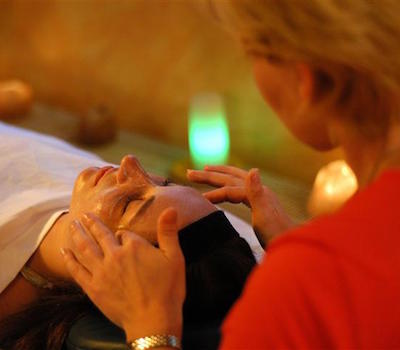 Let your skin from our professional beautician Christine Mayer spoil. With years of experience and top-quality products from the house Gertraud Gruber Cosmetics we take you one step closer to the goal of a healthy and clean skin.
The philosophy of Gertraud Gruber
The human being as a whole.
Knowledge of the close connection between the appearance of a man and his inner life is as old as our thinking - and the spa era as topical as never before.
But if real beauty comes from inner harmony, the harmony of body, mind and soul, then you can not outside halt real beauty. You must offer more.
For this more are the name and the mask Gertraud Gruber.
The idea to conduct holistic preventive health care an enjoyable fashion in a relaxed atmosphere, realized Gertraud Gruber, the pioneer of holistic cosmetics, with the establishment of the first beauty farm in Europe in Rottach-Egern more than 55 years ago.
The unique concept of holistic cosmetics consists of nutrition, movement, positive thinking, first-class products and respect for the inner man. All supported by the expertise and personality of beautician.
Beauty treatments
Custom Facial with Gertraud Gruber Cosmetics

€ 77

Individual facial with Ingrid Millet Cosmetics Caviar

€ 95

facial lymphatic drainage

€ 55

to color eyebrows

€ 10

dye eyelashes

€ 10

manicure

€ 25

Hot pack with massage

€ 20

Brush massage followed by body pack

€ 55

Beinenthaarung to knee

€ 29

Beinenthaarung whole leg

€ 42